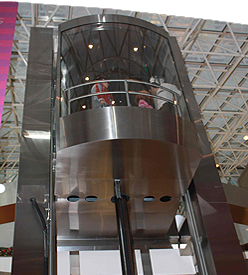 Architectural Elevators as the name implies caters to Architects and Building owners who want more than just vertical transportation for their Buildings. They want to make a statement and use the Elevators as the focal point of the Building. So give us your dreams and we will turn them into reality. No job will be refused as we can't say no to any challenge.
We work with the local Code authorities and will find a way to get the job done and in conformance with all Codes. We love to take on jobs that other Elevator Companies have turned down and said it is impossible. We make them possible. With our expertise in these complex jobs and our knowledge of the Codes and the industry, we can safely say that we have managed to turn dreams into reality and to accomplish this in the least amount of time.
We are your one stop shop for all your Elevator needs under one roof. We can provide you with a complete package and even install your Elevators for you, or just provide you with components. You are in full command and you determine how involved we need to be on your job. No other Elevator Company can say that.